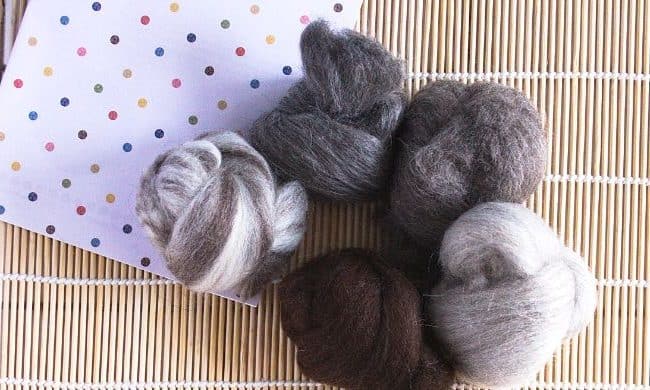 Wet felting is an exciting way of felting. The great thing is you don't need much in the way of tools and equipment to start with and so you can set up with very little cost.
I found that it worked out best to buy the kits, however, everyone's circumstances are different and you might not need everything they supply or you may prefer to substitute alternatives.
Below I have put in a list of all that is needed to start wet felting and what it is used for. This is a general guide for all the equipment needed, you may find you can change some parts or already have some of the items. While much is the same many people have their own methods for wet felting so each tutorial or project might vary slightly.
You will need the following:
Which Wet Felting Tools Do You Need to Get Started?
Quick Reference Wet Felting tools List
Quick checklist for all the tools you need to begin your wet felting journey.
Wool that is ethically sourced from non-mulesed flocks
One large piece of bubble wrap/ or two smaller pieces
One large piece of voile/netting
A large towel
A smaller towel
One small cloth
A sponge
One bar of soap with olive oil/or washing liquid or alternative soap
One large folding bamboo rolling mat
One lightweight rolling pin
Milk Bottle
You can either get these tools separately or as a kit.
Merino Wool Tops (non-mulesed)
These come in a range of sizes from 5g to 50g and larger but the smaller amounts should be enough when beginning wet felting and can be bought either locally or online yoeBayn get them at:
Amazon, eBay, World of wool, etc
A Large Piece of Bubble Wrap
Noo its not for popping! The bubble wrap goes on the bamboo mat and under your felting project and also above it.
A Large Piece of Voile/Netting
You need the netting to put over your felting when you are working it. This helps to stop it shifting while you are working it.
A Large Towel
You need a large towel to place under your project. 
A Small Towel
You can use a smaller towel to wrap your project in to roll it. Some people find this easier than the bamboo mat alone.
A Cloth
You need a cloth for wiping.
A Sponge
You can use a sponge if you tend to over wet your felt to help mop up the excess.
A Bar of Soap With Olive Oil
Olive oil soap is one of the best soaps you can use as it is high quality, however, if you run out or don't want to pay the price tag you can also use other soaps and washing liquids, etc as an alternative. I recommend that you stick with olive oil to start with as you then know if something goes wrong that it is nothing to do with the soap you are using.
A Large Folding Bamboo Rolling Mat
The bamboo rolling mat is placed on the large towel and under your project. When you have completed your picture you wet it then roll up the mat and roll back and forth lots of times.
You need a bamboo mat that will hold approximately a 10″ x 10″ (25cm x 25cm) picture so you need it a bit bigger. The one above is 45cm by 30cm approx 30″ x 17″) and is advertised as suitable for wet felting.
It is best if your mat has a dowel rod one end, unfortunately even the bought ones do not usually have this so you would need to add this yourself if you want one.
Do not get one that has dyes on as they may come off onto your project which would ruin it.
If you are doing larger projects you can use bamboo window blinds but I wouldn't recommend that you start with that.
A Lightweight Foam Rolling Pin
I have to admit I was a bit puzzled at this one as we didn't use them. Although it is obvious what a rolling pin does I was taught a different technique that doesn't use the rolling pin. The rolling pin is used to roll up your felting and then tied to keep it in place. This is actually much easier if you are a beginner.
A Large Plastic Milk Bottle With Holes In The Lid
You use the (clean) plastic milk bottle for the water and soap. You can also get a special tool to do this, however, you don't need to get it until you learn more and are happy that you will spend a lot of time felting. Simply put holes in the milk bottle lid.
Save Time Get It All Together With A Wet Felting Beginners Kit
You can get everything you need that is felting specific (except the towels, milk bottle, etc) in a kit like this:
This kit also includes some small projects for ideas. I'm going to go into more depth on kits in a later post. And also give some simple tutorials. However, this is a great one to start if you don't want to get all the items separately. It just makes it easier. And the cost is about the same.
This is the natural wool wet felting kit by Heidifeathers. This kit is lovely. It contains everything you need to start wet felting. With the exception of a towel. It's perfect for those that want to felt animals or prefer natural undyed wool.
I love this kit. I bought this kit for 2D wet felting. Each wool color weighs 10 g which is a good amount for most projects.
What Next?
These tools things are all you need to get started on your wet felting journey. However, you will need to get some tutorials either by buying a book or going to youtube or reading tutorials & Tips here.
I hope you found this list of wet felting tools useful. Once you have some practice under your belt you may want to use other equipment as well or change the type of things you use. There will be other posts covering that.