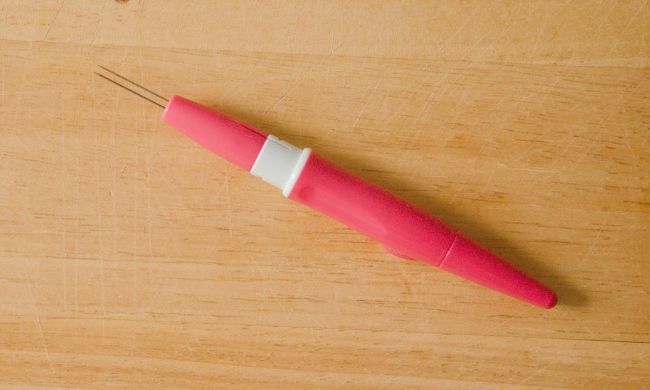 Needle felting handles make needle felting easier & quicker. It is less painful on the hands and fingers when you use the handles. There are several different types and lots of sizes to choose from. So how do you choose which one to buy?
As I say on my full equipment page I chose a wooden one to start with. It didn't work out because the handle didn't hold the needle firmly. This isn't against wooden handles, it's just that the one I picked wasn't that well designed. So some further research on handle holders and I decided on another handle.
Of course, you don't need to stick to one, as you get more into felting you will find that your projects vary in size and you might want a selection of handles to hold needles.
7 Reasons for Using Needle Handle Holders
You can use needle handles to help hold the needle firmly.
It also makes it easier to hold the needle.
However, as it gives an easier hold which can lessen hand strain if you are felting for a long time.
Some hold several needles which makes felting faster.
They come in different sizes and quantity of holes so they help a lot with the speed of larger projects as well.
Gives better control so can lessen the amount of hitting your fingers with needles (be warned though as you are going faster this may also result in hitting fingers with needles lol)
Removes your hands and extends the needle length. This allows you to get into awkward spaces in your project.
There are several types of handles that you can use and also different designs. You can have a single needle handle or a multi one or a pen holder, a plastic one or a wooden one. Each one has its own advantages and uses and disadvantages.  
Everyone has different preferences. Some people do not like to use them. My own view is they have their uses. Sometimes I do use them, others I don't.
Examples of Some Needle Holders With Their Pros and Cons:
Small Multi Needle Holder Pen For 1 to 3 Needles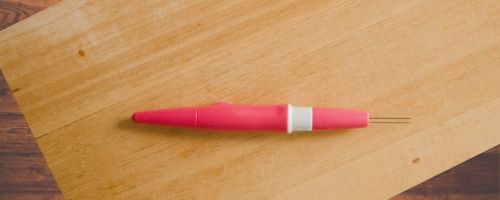 I love this needle holder. I find it a great all-rounder. I actually want to get another one so I don't have to swap needles while working. It's easy enough to change the needles in this pen, but I just would like to have the two.
As with any of these holders, some needles work better than others. Clover does have their own needles. You don't have to use them though most needles will fit. It's only if you have painted needles that some of these can be a bit thick and not fit properly. You can see the Clover pen details on Amazon(aff links to buy on Amazon)
The Pros and cons of the Pink pen holder:
Pros:
Easy to use
Easy to change needles.
Perfect for smaller work
Holds 1-3 needles.
Comfortable to use.
Quicker to felt down.
Has a lid to protect the needles.
Cons
May not hold enough needles for larger projects.
Some painted needles may not fit. (Check when you buy your needles they should say if they do.)
Multi-Needle Holder Handles
When you want to felt down quickly you can use a multi-needle holder to increase your speed. It can take an eternity to felt something so it is well worth getting a multi-needle holder if you are finding it takes too long to felt your projects.

this holder holds 5 needles. This is perfect for larger projects and working quickly but not for finer details. When felting with many needles you can hit resistance faster and you will then need to change the needle size and quantity. Most styles of holder you can use any needles, with this on you do need to have lover needles.
You need to have a lot more needles to hand for these bigger (although they do come much larger than this) needle holders.
I confess I don't have this one. My sister does. She loves it. She says the green Clover felting handle is worth getting. Most of my projects are tiny or small so I find the larger holders a bit clumsy to use.
Again recommendations are that you use clover needles for this one.
Quick overview of pros & cons:
Pros:
Easy to use.
Quick to felt down.
Reasonably priced.
Holds up to 5 needles.
Has safe storage for needles.
Perfect for felting flatter projects.
Holds both fine & heavy needles.
Cons:
I find it too awkward for smaller projects (but that might just be me).
The can be needle compatibility issues with other makes of needles.
This is the clover multi-needle holder. It is hugely popular. It is perfect for smaller projects. It holds from 1 to 3 needles. You use it with one needle for the finer work and 3 for stuffing down the wool much faster.
A Wooden Single Needle Holder
This single needle wooden holder is an economical way to hold your needles while felting. It is comfortable to use. Its also really easy to insert your needle and to change it for a different size or if you should break it. It fits firmly and snuggly which you need as a needle moving will result in it breaking.
As I said in my full tools page I had a few issues with the wooden handle I bought when I started out. The one I had issues with was a different make and shape to this one.
If you like to use wooden handles you can find this handle and others on Amazon. Some come with a full set of needles and tube storage.
Pros and cons of the Single wooden handle:
Pros
It's more comfortable to use than just holding a needle.
You have more control of it.
Ideal for smaller hands.
Easy to change the needle.
Great value for money.
Cons:
Only holds one needle so not not make felting that much faster.
Wrap Up
This is an example of the needle holders that you can get. Some people do huge projects and have holders that hold 12 plus needles – Yipes! I saw a heavy metal on one of the You Tube channels. You shouldn't need these larger holders when starting out felting as doing a too big project may put you off as it can take weeks or even months to complete.
This is a good selection of popular types of needle holders. It should give you a good starting point.